New Soon
Wing Arduino Nano Robot Controller (Nano Included)
Wing, Small and versatile All in One Robot Controller
The design of the Wing motor drive pins is identical to the individual Ardumoto + Arduino pins. This is a huge advantage. Meaning, you can use all the line-following codes that are made with Ardumoto on the internet in the Wing Board. All you have to do is choose the Nano card instead of the Uno card in the Arduino program.
Tehnical Specs
Working Voltage: Between 8V - 15V.
Output Current of Motor Drivers: Burst 3A, Continous 2 Ampere (all 12mm, 15mm, 16mm diameter motors can be driven by Wing's motor drivers) Dimensions: 56mm x 51 mm x 18 mm (Board is very small for line followr and mini sumo robot projects. Lastly, Wing comes with Arduino Nano and USB cable.
Wing Board Features
78M05 based linear regulator
Mosfet motor drivers 8 - 30V, 2 Ampere Output
User trimpots (Connected to A6 and A7)
Dipswtich (Connected to D5-D6-D7, 3 Position red dipswitch)
Mode Leds (Connected to D8 and D9)
Start Button & Start Pin (Connected to D10 used for minisumo or line follower robots with start modules or with sensors)
Arduino Nano 8+1 pin total 9 pins are free for usage, you can add sensors, interface elements...)
Think about wing is super carrier for Arduino Nano. Wing uses board's regulator for powering Arduino Nano so you are less likely to burn your nano, and what's more? all sensor I/O pins a-have current limiting resistors which also helps to save pin breaks.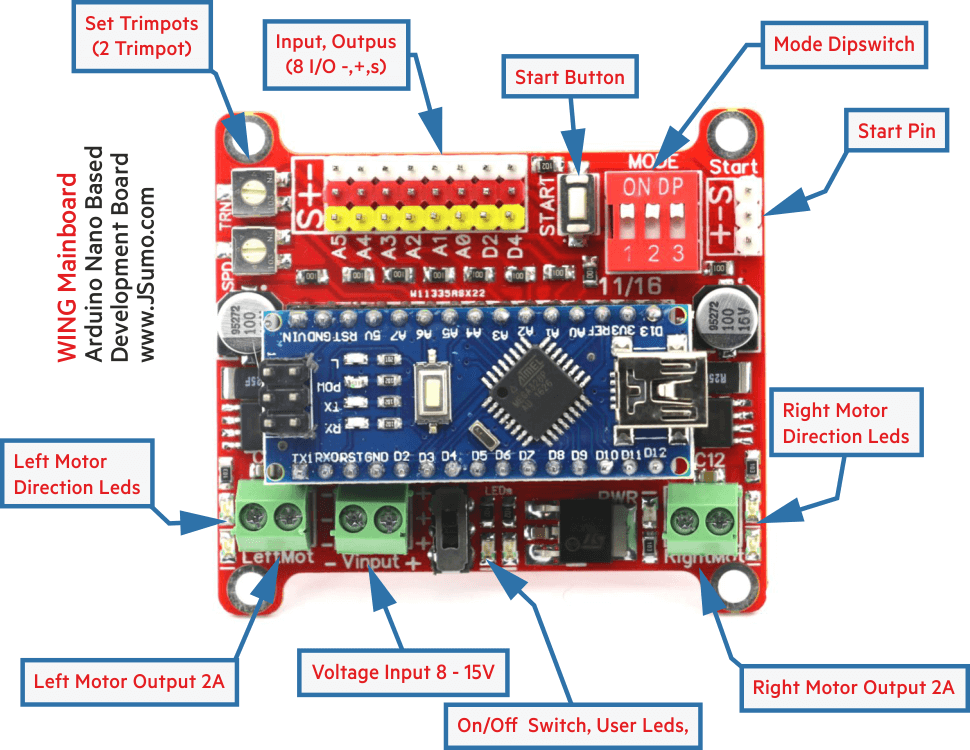 What you can do with Wing Board?
Lots of things. We suggest for minisumo robots and line follower robots strongly.
Example Scenario (For Line Following Robot)
You can connect QTR-8RC Sensor to the sensor input pins in groups (all ports A0-A5 can be used both digital and analog)
2 trimpot on Wing can be used to change motor speed values or Kp, Ki, Kd for PID control (you can control with trimpot without re-programming)
The 2 ampere double motor output is sufficient for all line-following robots.
Line follower's motors can be driven with speed and direction control routine easily.
JSUMO